The Acer CB242Y 23.8-inch 1080p monitor is down to $115.27 on Amazon. This is the first drop in price for this monitor since February. It normally sells for around $130, and it's really great to see it dropping in price again after jumping to that higher price tag for so long. Its lowest price ever is $110, so today's deal is within $5 of the best we've ever seen.
Good low price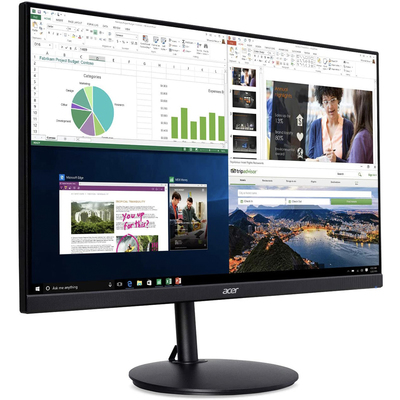 Acer CB242Y 23.8-inch 1080p FreeSync IPS monitor
The monitor has 1920 x 1080 pixel resolution, a widescreen IPS panel with 178-degree viewing angles, a 75Hz refresh rate, which is above the average, and a fantastic 1ms response time. It also uses AMD's FreeSync tech and a Zero Frame design.
$115.27 $130.00 $15 off
The widescreen display is 23.8 inches with a 1920 x 1080 pixel resolution. It has an IPS panel, which means it has great color accuracy and 178-degree horizontal and vertical viewing angles. The Zero Frame Design does its best to give you as much real estate as possible, putting every inch of the screen to work for you without a bulky bezel along the side.
It also uses AMD Radeon FreeSync technology, which will work with your AMD graphics card to help reduce screen tearing. That's the sort of thing that can occur when watching high action media or playing video games, and reducing it really improves the image quality and helps you focus on the events at hand.
Other specifications include a 1ms response time using VRB. The monitor itself doesn't have the 1ms response time. Rather, it uses Acer's Visual Response Boost technology to decrease the blur you might see in those faster movements. IPS panels generally don't have super fast response times and need the help of tech like this to achieve it, but the fact that it has the tech is a huge plus.
The monitor's connections include one HDMI and one VGA port. While it comes with a VGA cable, you'll want to connect to hDMI to get the 75Hz refresh rate and make use of the FreeSync technology. It also includes a bunch of Acer tech designed to reduce eye fatigue for people who sit in front of the monitor all day with things like Acer VisionCare, BlueLightShield, ComfyView, Flicker-less tech, and more.
We may earn a commission for purchases using our links. Learn more.