The Eufy Security EufyCam 2 1080p wireless home security add-on camera has dropped to $99.99 on Amazon. This is one of the lowest prices we've ever seen for this security camera, which normally sells for around $140. In April it was even going as high as $150. We've only ever seen it drop lower than this once before, so today's price drop is a great deal.
This is not a standalone camera. It is an add-on piece to the EufyCam 2 home security system. It requires the HomeBase 2 to even operate. So don't buy it thinking it's all you need because it isn't. If you haven't gotten the EufyCam 2 home security system yet, you can get one now for a reasonably low price of $269.99. The system normally sells for $300. It's a versatile kit that can work with plenty of Eufy devices, including Eufy video doorbells and such.
Low price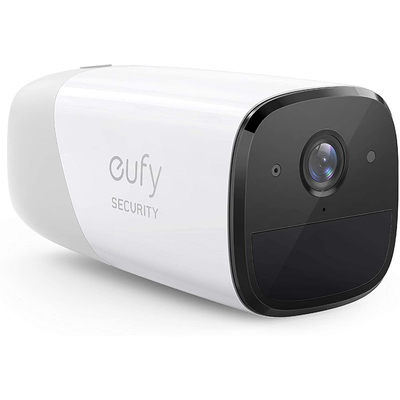 Eufy Security EufyCam 2 1080p wireless home security add-on camera
Requires Eufy's HomeBase 2 to operate. These cameras can stream and record in 1080p. The battery lasts for up to one year. Also has advanced night vision and an IP67 rating so it resists dust and weather if you place it outside.
$99.99 $140.00 $40 off
This is the second-generation of Eufy's home security system. The EufyCam 2 greatly improves on the first-generation EufyCam E in a number of ways. You'll get more advanced A.I. powered facial recognition software that helps prevent false positives. The new EufyCam 2 can tell the difference between familiar faces, objects, dogs, birds, and other things that the old EufyCam E might have sent you an alert about. You'll also get a better IP rating for withstanding weather. The newer camera also has an IP67 rating, which means it is a lot more resistant to water than the previous generation's IP65 rating. It also comes with an 8x digital zoom, which is something the original does not have.
In addition to all of that, the camera has 16GB local storage that can store up to a year's worth of video, a battery that can last 365 days on a single charge, 1080p video recording, night vision that works up to 25-feet away, two-way audio, and a 140-degree wide angle lens so you can capture all around your home.
You can easily integrate this camera and the security system with your smart home as well. Just connect the camera system to your Wi-Fi and control it from your smartphone. You'll also be able to use voice commands through Amazon Alexa, Google Assistant, and Apple's HomeKit, which is another new feature for the series.
We may earn a commission for purchases using our links. Learn more.