Haven't finished changing all of your old light bulbs to modern smart lighting? That's okay, I understand. It's a necessary but expensive procedure. So here's a discount that'll help you along. Grab this Philips Hue 2-bulb starter kit on sale for $69.99 at Best Buy. That's a big discount because the kit normally sells for around $120, and that's the price you'll find it going for at other retailers including Amazon.
This isn't the only way to save on smart lighitng at Best Buy today, either, because the retailer has a 24-hour flash sale going on that includes discounts on things like this Philips Hue light strip bundled with a Google Nest Hub.
Low price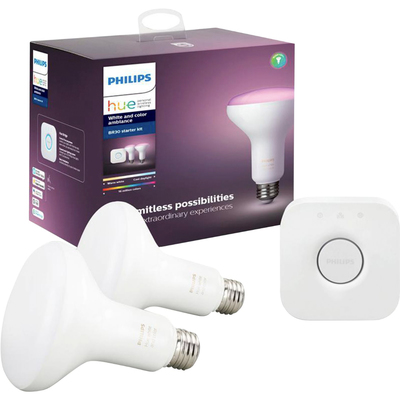 Philips Hue white & color BR30 starter kit
The kit includes two multicolor BR30 smart bulbs and the Philips Hue bridge designed to help you unite your bulbs and connect them to your Wi-Fi network. Find the perfect lighting with preset scenes or lighting effects that sync to your movie.
$69.99 $120.00 $50 off
The bulbs in this kit are BR30 smart bulbs. The BR30 designation indicates a bulb meant for a ceiling light or recessed light. This is not for a normal lamp but rather the lights that hang upside down above your dining room table or something similar to that.
In addition to the two bulbs, the starter kit also includes the Philips Hue Bridge. This is a necessary component of the Philips Hue system. It allows you to unite all your smart lighting together since the Bridge can control up to 50 lights and other smart accessories. You can then control the Bridge itself or add individual rules for different lights. Plus, you can use the Bridge to connect all your lights to your smart home network, enabling voice control and thingsd like that.
The bulbs have preset lighting scenes you can use to get the lights just right based on your routines or mood. Use Energize to blast your morning with cool white light or get something softer with Relax. You can also use lighting effects to surround yourself with in-sync lighting that matches your movie or show by flashing, dimming, or changing color based on what's happening on screen.
We may earn a commission for purchases using our links. Learn more.