If you're yet to upgrade to the Apple Watch Series 6, Amazon has got some exceptional Apple Watch deals going on right now that might make now the perfect time to change that.
Right now, you can save as much as $91 there with entry-level prices dropping as low as $329 making for some of the best Series 6 deal to date. Various configurations and styles are discounted so be sure to click through the different styles to find your favorite.
time to save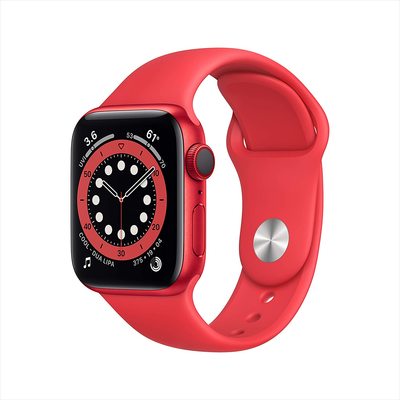 Apple Watch Series 6
Apple Watch Series 6 models are available for some of their best prices ever right now. The lowest price is on the red 40mm version which is $70 off with 44mm and cellular models seeing discounts of up to $91.
From $329
With Apple Watch Series 6m you're getting the latest, top-of-the-line Apple Watch model which only hit the market last fall. It keeps features from the previous-gen Series 5 like accurate heart rate monitoring, the ability to take an ECG, fall detection, customizable watch faces, and daily activity tracking, while also adding some useful new capabilities.
One notable Series 6-exclusive feature is Blood Oxygen monitoring. It allows the wearer to measure the level of oxygenation in their blood via the Apple Watch's built-in sensor and Blood Oxygen app. The watch will also do some background monitoring of your blood oxygen levels as you go about your day, whether you are working, working out, relaxing, and even sleeping.
The Series 6 also has an always-on altimeter, which allows you to always understand your current elevation at any moment. While it might not be something you need to use every day, it's a really handy feature for those who like to hike, camp, or cyclists who enjoy a good hill climb. The new, brighter always-on display also makes it easier to check the time or any other data point at a glance, especially outdoors.
On the inside, the Series 6 has been upgraded to a new S6 system-in-package which is 20% faster without sacrificing the all-day 18-hour battery life. In fact, the latest Apple Watch charges faster and actually has improved battery life for some tasks, such as certain types of workouts like running.
At today's price, the Apple Watch Series 6 is not much more expensive than the Apple Watch SE so it's definitely worth comparing the two to see which is right for you.
We may earn a commission for purchases using our links. Learn more.