Can't bother to get up to answer the door? Still curious who's out there? Grab Eufy Security's 2K video doorbell while it's on sale for $119.99 at Amazon. This is a great low price and matches the lowest price we've seen this year. It hasn't dropped this low since March, so now is your chance to grab it if you missed it last time. The doorbell normally goes for around $160.
Knock knock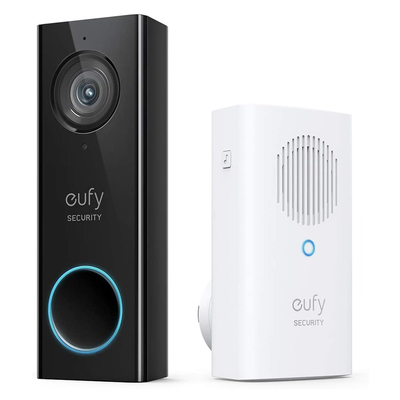 Eufy Security Wi-Fi 2K resolution video doorbell
You'll get a wireless chime you can use somewhere else in the house to hear the door wherever you are. Has a 2K resolution image with advanced HDR and distortion correction. Includes two-way audio, motion detection, and smart alerts.
$119.99 $160.00 $40 off
The great thing about a video doorbell is that you can view a live stream of anyone at the door from anywhere. You can even review the recorded footage later if you missed it the first time around. Eufy's doorbell records in 2560 x 1920 pixel resolution so you get crystal clear images and videos. The advanced HDR tech and distortion correction help ensure more detailed images every time.
One of the other features is two-way audio. This means you can hear what your visitors are saying and respond to them straight from whatever device you're using to view the stream. Communicate with delivery drivers or let your friends know you're not even at home for the moment.
The camera has motion detection and can send you smart alerts when it detects something. Plus, you don't have to worry about false positives like a stray cat running in front of your door. It is equipped with advanced A.I. and algorithms that help it determine the difference between a human body or face and non-human movement. This way you can get alerts on your phone that you know you want to pay attention to.
Since the video doorbell spends a lot of its time outdoors, it needs to be weather resistant, too. It has an IP67 rating, which means it'll survive water and dust and can withstand the weather from any season.
We may earn a commission for purchases using our links. Learn more.