You can never have too many cables, especially if you live with other people who like to "borrow" them. If you're hoping to use Cyber Monday sales to stock up on USB-C cables, Amazon has got you covered with an awesome Aukey USB-C cable bundle. Down to just $6.74 for Prime members, you get two laptop-rated 6.6-foot USB-C cables with a braided nylon construction. At that price, each cable is just $3.37 each which is a total steal.
Plug in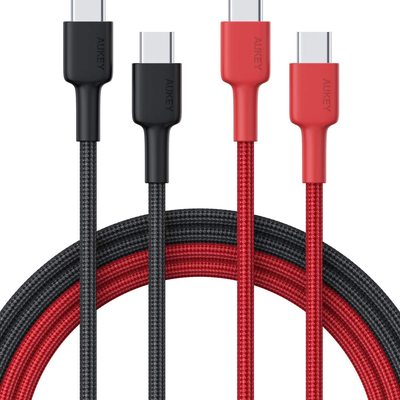 Aukey 6-Foot USB-C to USB-C Cable, 2-pack
These well-rated cables, each of which measures six feet long, has a 30,000-bend lifespan and come with a 24-month warranty. The 2-pack is down to under $7 for Amazon Prime members making each cable just $3.37.
$6.74 $8.99 $2 off
Rated for 60W, these cables will work for charging Chromebooks and most laptops as well as most of your charging needs for your mobile devices. They're also super durable making them perfect for taking along with you when you're out and about. In fact, Aukey rates them for up to 30,000 bends which is kind of wild. I wonder how many interns had to sit there all day bending the cables until they broke to get to that estimate.
The two-pack features one red and one black cable so you can differentiate which is connected to which device on a busy desk or identify which cable belongs to which kid so they don't end up fighting over them. The included velcro cable wrap works wonders for tidying up or taking these cables on the go too.
While some more powerful MacBooks and Windows laptops might charge at 87-100W, 60W charging and 60W USB-C Chargers are perfect for smaller laptops and for all Chromebooks, which max out at 45W Power Delivery Charging no matter how expensive or inexpensive your Chromebook is.
The extra length of these cables makes them perfect for the bedroom as you snake them from that charger under the bed up and around to the nightstand. A 6.6-foot length is also great for use travelling where outlet positions may be a bit more awkward. No more crouching by the airport waiting room outlet as you charge your phone (when, you know, travel is a thing again).
We may earn a commission for purchases using our links. Learn more.