If you've fully invested in the world of wireless charging Apple mobile devices, and especially the iPhone 12 lineup, you should look into getting our favorite MagSafe accessory, the Belkin BoostCharge Pro MagSafe 3-in-1 charging stand. It's actually down to a new low price, its first major discount since we first saw it introduced a few months ago. You can get it for $119.69 at Amazon thanks to a price drop to $125 and an extra chunk of change that comes off automatically during checkout. That's $30 off what it's going for at Belkin and $20 off what Apple is selling it for. This deal only applies to the white version as the black version is still going for $150.
Power up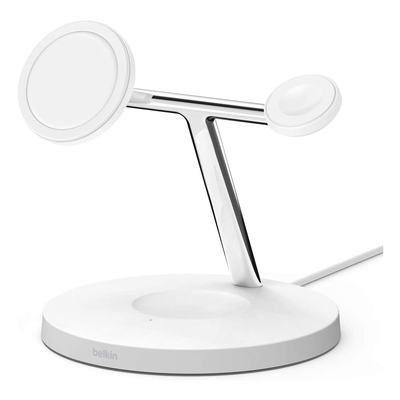 Belkin MagSafe 3-in-1 wireless charger for iPhone, Apple Watch, and AirPods
The 3-in-1 wireless charger has space for your iPhone, your Apple Watch, and your AirPods to all charge together. Get up to 15W for the iPhone 12 lineup. Charge in any orientation so you can keep using the phone in portrait or landscape.
$119.69 $150.00 $30 off
When we reviewed this wireless charging stand we gave it a near perfect score at 4.5 stars out of 5 and a Recommended badge. The biggest hit against it was the cost, which hopefully today's deal alleviates somewhat. Bryan M. Wolfe said, "The Belkin MagSafe Charger is a modern device that should provide you with years of use. If you're looking for cutting edge and don't mind spending a little bit more, this is the all-in-one charger for you."
If you don't already know, MagSafe is tech that was originally introduced on the MacBook and has since been integrated into the iPhone 12 lineup. It makes wireless charging faster and attachments easier, and it has opened up a whole new world of accessories including this one on sale today.
The BoostCharge Pro is designed to hold your iPhone, your Apple Watch, and your AirPods. In fact, it's compatible with the iPhone 12 mini, iPhone 12, iPhone 12 Pro, iPhone 12 Pro Max, every Apple Watch series going back to Series 1, AirPods 2, and the AirPods Pro.
It will wirelessly charge all of them with fast 15W wireless charging for your iPhone. You can even pick the orientation you want, either portrait or landscape. That could be important if this is going to sit on your nightstand and you still want to use the phone for notifications, FaceTime, or just watching a TV show before bed.
We may earn a commission for purchases using our links. Learn more.