Over the past few years, it's become a whole lot easier to install a home security system of your choice, and the camera end of them has improved big time. With options that stream 1080p video feeds to your phone, there's little-to-no reason that you wouldn't add some cameras to your home.
Right now, you can pick up the Blink XT2 camera kits at Amazon with up to 25% off. This drops the base price down to just $74.99 for a single camera and up to $284.99 for the 5-camera kit. Better yet, just $10 more gets you an Echo Show 5 bundled in.
Record-low prices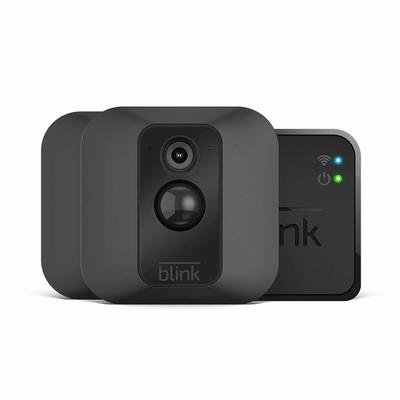 Blink XT2 Smart Security Cameras
These cameras use AA batteries that are designed to last for up to two years. They can be used inside or outside too. The one-camera kit is $75 or go for the biggest 5-camera kit for $285. Just $10 more gets you an Echo Show 5, too.
From $75
There are a bunch of options available for purchase, but if you can't find the one that meets your needs, you can always add on an extra camera. These are currently down to just $64.99 apiece, too. The cameras operate on two AA batteries each, so there are no wires to deal with when mounting them. This adds versatility to the kits and gives you the freedom to install them where you want, instead of where you can get them powered. The batteries are said to last for up to two years, depending of course on the motions it captures, the amount of live viewing you do, and more.
You can use these cameras inside your home or outside. They offer two-way audio so you can hear and talk to whoever is on the other side of the camera right from your phone, anywhere in the world. Blink continues to add new features via software updates in the app, like the ability to schedule the arming and disarming of the cameras, the ability to configure cameras individually for notification preferences, and more.
One of the biggest highlights here is that Blink does not charge a monthly fee to access the footage the cameras record. Most other companies are charging a few bucks a month, so that's an additional cost savings by going with this kit. Be sure to check out our full review of these cameras, and then grab some for yourself today!
If you're after more security cam, video doorbell, and alarm deals check out our list of the best deals on Ring products for more options on sale.
We may earn a commission for purchases using our links. Learn more.