When's the last time you had a good movie marathon? The latest offer from Cheez-It might have you penciling one in for this weekend. Right now you can earn $10 in promo credits at Amazon just by watching five hours of select content on Prime Video this month. You'll earn $5 in credit that can be used towards Cheez-It products and another $5 which can be used on Prime Video purchases.
You don't need to be an Amazon Prime member to be eligible for this offer, however it would be extremely helpful. All but one of the movies included in the selection are free to watch on Prime Video for Prime members. If you don't have a Prime membership, you'd have to pay to rent the films which makes the whole deal much less appealing. Then again, you could start a 30-day trial of Amazon Prime so you could watch the films for free and make this offer easier to complete. You'd also gain access to Prime's free two-day shipping and exclusive members-only discounts.
YUM!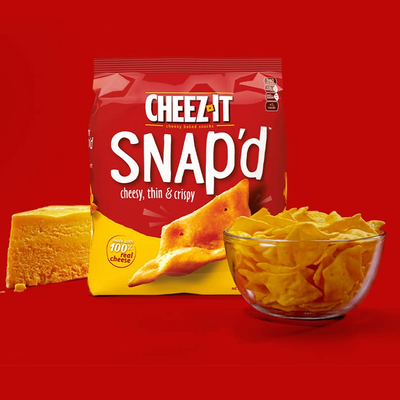 Cheez-It Snap'd & Stream on Amazon
The Snap'd & Stream offer earns you $5 towards Cheez-It products on Amazon as well as a $5 Prime Video credit just for watching five hours of select content on Prime Video this month.
Limited Time Offer
While there are only 15 movies included in the Cheez-It Snap'd & Stream collection this month, all of the films included are pretty great. You could catch a new film like Knives Out or Bumblebee, or classics like Top Gun and Stargate. A number of superhero films like Marvel's Avengers and Iron Man 2 are included in the selection as well. The only film in the selection which isn't free to watch with a Prime membership is Anaconda, but you can rent or buy it to watch it now.
You have through the end of August to watch over five hours of content and earn the $10 in credit for Prime Video and Cheez-It products. The Snap'd & Stream offer will feature new movies and new freebies every month, so be sure to check back in September for more ways to watch and save.
We may earn a commission for purchases using our links. Learn more.