The GreenWorks GPW1602 1600 PSI pressure washer is down to $69. Normally, this pressure washer sells for around $100 and jumps as high as $116. It actually hasn't gone on sale directly at Amazon in more than a year, and it has never gone lower than today's deal.
The price is part of Amazon's deals of the day, so it's only good for a temporary amount of time. If you are interested, there are some other pieces to this sale that includes a bunch of pressure washer accessories. Hoses, nozzles, and soap applicators you might want either as replacements or add-ons for your new gadget. All of them are on sale, too, so you're saving even more money.
Daily Deal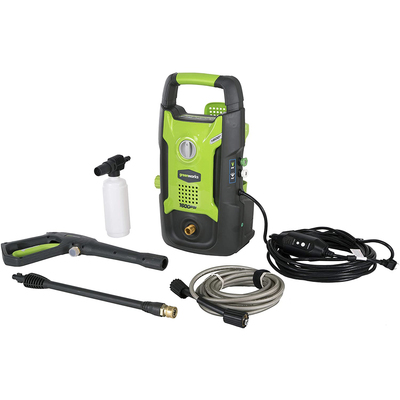 GreenWorks GPW1602 1600 PSI pressure washer
Restore tons of surfaces to prestine condition. Use it vertically or horizontally. The 20-foot high pressure hose gives you significant reach to hit all the dirty areas. The 35-foot power cord lets you charge and move anywhere around your home.
$69.00 $100.00 $31 off
The GreenWorks pressure washer can blast services up to 1600 PSI and 1.2 gallons per minute. That's enough to blast the grime off anything, including the side of your house, your driveway, your porch, or your car. Make the outside of your home look brand new again. It's especially useful for getting rid of dirt that has caked onto your sidewalks or getting rid of the grime that accumulates after a storm.
The pressure washer has a lot of flexibility in where and how you use it, too. For one thing, even though it needs to be plugged in, it has a 35-foot power cord. Use any exterior outlet and move all over the place with that much leeway. It also has a 20-foot high pressure hose, so you can reach all sorts of places. Use the pressure washer vertically or horizontally and pressure wash all the dirty spaces in your life.
The device has a soap applicator that lets you apply soap to any surface as well. That's great if you're washing your car or something else that needs to get soapy first. You'll get two nozzle tips and an attachable detergent bottle, good for every job.
We may earn a commission for purchases using our links. Learn more.