Best Buy has a combo going that includes the Razer Ornata V2 hybrid keyboard and the Razer Kraken X stereo headset for a discounted price of $99.99 total. The Ornata V2 keyboard goes for $100 by itself, and the Kraken X headset is $50. So with this combo you're basically getting the headset for free, which is a pretty great deal.
Better Together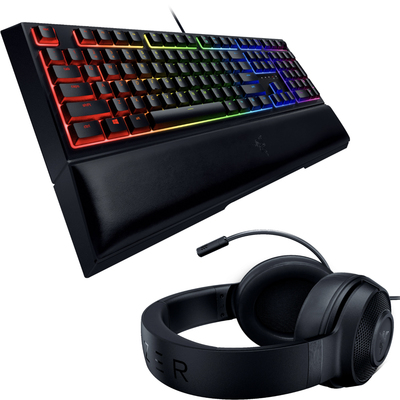 Razer Ornata V2 hybrid membrane keyboard and Razer Kraken X wired headset
Both devices have Razer Chroma lighting you can customize and sync together. The keyboard has key switches that give you the clicks of a mechanical with the cushion of membrane keys. The Kraken X is a stereo headset with wide compatibility.
$99.99 $150.00 $50 off
The Ornata V2 is an interesting Razer keyboard. I'd say this keyboard is for the person that loves to game but still prefers the feel of a traditional keyboard. It's actually a hybrid mechanical keyboard in that it uses mechanical switches but has membrane keys. You'll still get the tactile feedback of clicky keys, but each key also has a soft, cushioned feel. That makes them a little less precise but still plenty comfortable.
Razer Hypershift is another cool bit of tech. This basically allows you to turn every single key in the keyboard into a macro. Give your regular number keys a secondary function that executes a complex macro. There are also media keys on the keyboard that allow you play, pause, adjust volume, or even change brightness levels.
It's a durable keyboard backed up by a two-year warranty and comes with an ergonomic wrist rest.
The Razer Kraken X is a powerful headset with custom-tuned 40mm drivers that deliver powerful sound and a wide soundscape. It has an ultra-light design so you won't be weighed down while you use it. It's also a stereo headset with surround sound so you can get accurate positional audio, which is important for gamers and movie watchers. There is a bendable cardioid microphone, an adjustable headphone slider, and oval ear cushions with leatherette for extra comfort. It's also compatible with a wide variety of platforms, including the PC, gaming consoles, and even mobile devices.
We may earn a commission for purchases using our links. Learn more.