Time to start thinking about cooking outdoors again! And you're not quite ready to fire up the grill where you live, you might want to get something cooking indoors. Either way, the ThermoPro TP03 instant-read meat thermometer is for you. You can get it on sale for $10.10 at Amazon today. This is only the second time in the last year this thermometer has dropped this low. Normally it'd cost around $14 or as high as $20. Today is a great chance to get one of these, and you'll enjoy it if you've never grabbed one before.
BBQ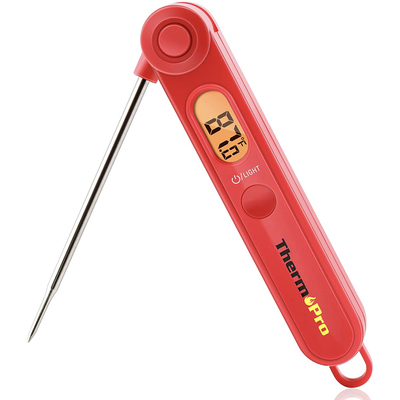 ThermoPro TP03 digital instant-read meat thermometer amazon
The 3.9-inch food grade stainless steel probe can get you a temperature readout within five seconds, and you don't have to burn yourself to do it. It's accurate to within a degree. Works indoors and outdoors. Has a backlit LCD display.
$10.10 $14.00 $4 off
The ThermoPro TP03 is a super fast way for you to check the temperature of your meat whenever you're cooking it, and the extra long probe means you don't have to deal with the heat too much. It's a 3.9-inch stainless steel probe that's food grade and designed to get you a temperature readout in just three to five seconds thanks to the high-precision sensor.
The sensor is also super accurate. You can measure food with a temperature range between -58 and +572 degrees Fahrenheit. It's also accurate to within a degree, so you know it's getting it right every time. The thermometer is not impacted by being indoors or outdoors, either, so it's great for your oven or your grill.
Don't even worry about this thermometer until you need it. The probe folds up nice and easy, and it can even be locked into the base. It's small enough to fit in any drawer really and portable enough to travel with you if you need it. The base has a magnetic back and a convenient hook for storage.
The thermometer comes with a backlit LCD display that shows you your readings in nice, digital numbers. It will also automatically shut off after 10 minutes if you aren't using it. It's powered by a AAA battery that will last for a long time thanks to features like that.
We may earn a commission for purchases using our links. Learn more.