My 13 year old son has been asking for a computer of his own for a few years now. There's little value to giving him a full computer these days, but as soon as I heard about the CrowPi2 I immediately knew it was something for him and something I had to check out. The Raspberry Pi laptop is much more than just a single device, and honestly blew me away from the minute that I took it out of the box.
The team behind the CrowPi2 did a great job putting together a video for its crowdfunding campaign, which is taking place via Kickstarter, so give that a quick watch and then keep scrolling down for some more of my thoughts after using it with my son for the past week.
When I first opened the box, I will admit that I was a bit overwhelmed. It's far from your traditional laptop unboxing experience here. Sure, there's a device that looks like a laptop in there, but there's also resistors, old-school Nintendo style controllers, extra parts, and more in the box. This is because the Raspberry Pi platform is so versatile that you can have your kids tinkering with so many different things. The base kit does not include a Raspberry Pi, but everything above the Basic Kit level does, so be sure to keep an eye out for that while backing the purchase now.
There are 22 different kinds of sensors and modules in total that can be used to customize your experience with the device. You can do things like play Minecraft or learn to code with Python. The laptop has an 11.6-inch display on it and the keyboard that is inside of the laptop unit is removable, which then showcases another huge set of tools that can be used for coding, tinkering, and having fun with.
We got started very slowly. Booted it up and started to play around to see what was what, and where to even begin. I consider myself fairly tech savvy, but was admittedly a bit overwhelmed by this as it was something I had never done. This made it just as much fun for me as it was for my son, though. His favorite thing is Minecraft right now, so we hopped into that to start since it was something he knew about. He played for a while and said he really enjoyed it. From there we started moving on to try and code and check out some of the games. The coding took a bit to get the hang of, but he didn't give up and the interactiveness made it quite enjoyable for him.
Things like being able to play games, make various lighting work with the included breadboard, and more make this an endless amount of fun. We are constantly looking for something new to do with it, and luckily we don't have to look far.
It's been a good time using the CrowPi2 with my son, but that doesn't mean there hasn't been some frustration along that way. Most of it has to do with not knowing the platform and systems themself instead of anything to do with the quality of the CrowPi2 itself. Having received an early production sample there are a few design quirks, which the company says have been fixed for the final production units. Overall, we really like this, and odds are you will too!
The Kickstarter ends in just a few days, so if you want to get one of these for your kids, your friends, or even yourself, you should get your order in now. The original CrowPi still sells for a whole lot more than this kit is on sale for via Kickstarter, and the product is already fully-backed, which means that the company will get the money to push forward with production.
Pay what you want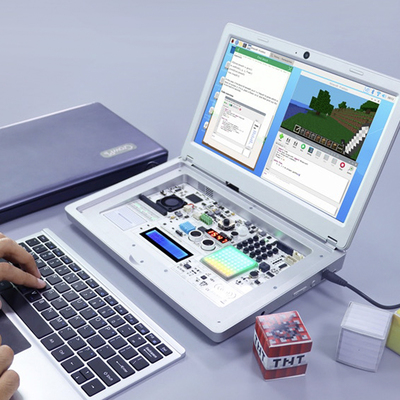 CrowPi2 Raspberry Pi Laptop and STEM education platform
This Raspberry Pi laptop is a tool for learning Python, Scratch, AI, and Minecraft. You can also learn engineering with sensors, breadboards, lights, and more on the inside. Has independently developed software and 22 sensors and modules.
About $170
We may earn a commission for purchases using our links. Learn more.