The Dark Matter Collider Cherry MX Red mechanical gaming keyboard has dropped to $57.12 with free standard shipping at Monoprice. This is a huge discount considering the keyboard can sell as high as $100 and it's currently going for $90 on Amazon. We have never seen the Collider version of this keyboard drop so low before.
Type On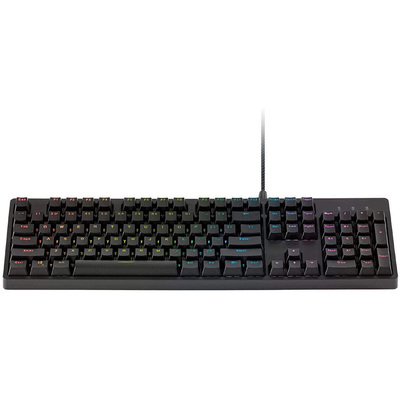 Dark Matter by Monoprice Collider Cherry MX Red mechanical gaming keyboard
This is a Monoprice brand that includes Cherry MX Red mechanical switches. Get that tactile feedback and click-clack of a mechanical keyboard at an affordable price. Built on steel for durability. Has per-key RGB lighting and programmable macros.
$57.12 $90.00 $33 off
The Dark Matter keyboard is a smooth looking mechanical keyboard, and it has Cherry MX Red mechanical switches. Cherry MX Red switches have an actuation point of 2mm , actuation force of just 45g, and a total travel distance of 4mm. That ends up giving you a precise and responsive operation, which is why these switches are as popular as they are.
The switches on this keyboard are mounted on a steel plate. That means they have fantastic structural support, and the keyboard itself is insanely durable. You'll be able to go to town while playing games, smashing away at these keys, without ever feeling like the keyboard is suffering for it.
You also get per-key RGB lighting with the Dark Matter keyboard. You can customize and program each individual key's lighting if you want or create custom lighting effects. Create on-the-fly macro keys that don't require software, either. You can set up custom and complex macros without messing around with programs.
You'll also get full n-key rollover, which means every keypress registers. No matter how fast you type, how quick your actions per minute are, the keyboard will never leave a keypress behind. Hit keys at the same time, use modifiers like the Alt key super quick. Don't worry about it. The keyboard will remember.
Monoprice has a quality guarantee that ensures your keyboard will arrive in good shape and hassle free. And it's also backed up by a one-year warranty just in case.
We may earn a commission for purchases using our links. Learn more.