Forget hunting around for matches and burning your fingers as you try to light all of the candles on the birthday cake with one match (we've all been there). The Tacklife ELY01 USB-rechargeable electric arc lighter is down to $8.49 at Amazon with code PSHYXFUI.
Without the code, the arc lighter is going for around $17 so you're saving 50% with this deal and grabbing yourself a USB rechargeable lighter that will let you ditch matches for good in the process.
Coupon deal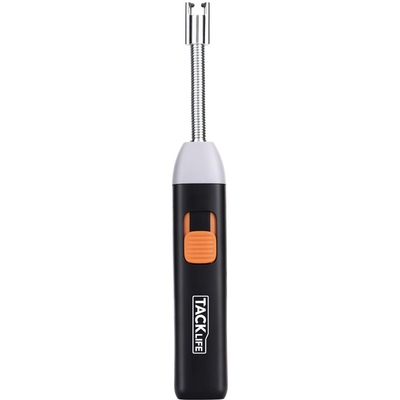 Tacklife Electric Arc Lighter
The 220mAh battery works up to 400 times and recharges via USB. No more gas or fuel. No mess, no smell. The flexible neck is good for lighting candles, camp stoves, and more. Plus, it's windproof for outside use. Use the below code for 50% off.
$8.49 $16.99 $8 off
Tacklife's arc lighter has a 220mAh battery and can be used up to 400 times before needing to be recharged. There's even a power indicator to let you know when it's low. And then all you have to do is plug it in — there's nothing to refill or anything like that.
The benefit of an arc lighter like this is there's no flame, no gas, and no smell. You can use it throughout your daily life to light candles, start a burner, get the grill going, and more.
The arc lighter is wind and rainproof so you can use it even when you're outside. Since the fire is produced from an arc it won't blow out like a regular lighter would. If you're thinking about going camping or spending some time outside as winter fades and spring rolls in, you'll want one of these for sure.
With its flexible gooseneck design, you can use it to light the stove from a distance a regular match would not allow. Plus, you can even bend it to light those awkward-to-get-to candles in your fancy mason jars without burning your fingers.
Tacklife backs it up with a two-year warranty, and users give it 4.4 stars out of 5 based on over 1,100 reviews.
We may earn a commission for purchases using our links. Learn more.