That lawn isn't going to perfect itself, and spring and summer are the perfect seasons to work on it. Time to get outside and do the work! Today on Amazon you can get the tools you need to do just that with a huge sale on a variety of Greenworks power tools. Outfit yourself with a bunch of tools or just pick the one you need for the job at hand. The tools are on sale for as little as $48.99 and many of these haven't dropped in price much recently. For example, this Greenworks lawn mower down to $349.99 today hasn't gone lower than $500 in more than a year. It's a crazy good deal if that's what you need. But remember all of these sales disappear at the end of the day.
One day sale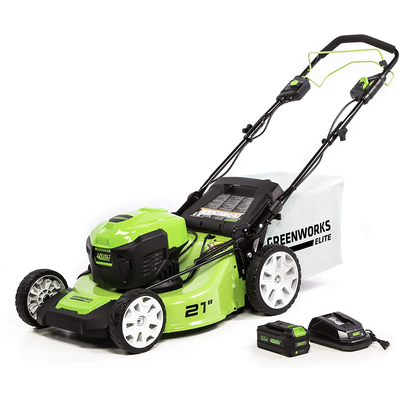 Greenworks outdoor power tools sale
The tools on sale include everything from a battery-powered lawn mower to a hedge trimmer to a powerful LED light for working in the dark. You can even buy a spare battery or two at a discounted price so you never run out of juice.
As low as $49
These tools are all battery powered, and most of them come with batteries of their own. You can still buy a spare if you want so you can hotswap batteries and never run low on power in the middle of a job. Today the spare battery is $30 off its regular price and down to the lowest it has been in more than a year. Keep one around if you have multiple Greenworks tools because it will work with all fo them. That way there's always something getting powered up on the charger, ready to keep your tools going.
The least expensive item on sale is the Greenworks 40V Axial leaf blower, which is down to just $48.99 today. That's a $21 discount off its regular price. Plus, since this is a new Greenworks product that has only been around since August last year, today's sale is actually the first deal and lowest price we've seen.
The leaf blower can produce 28% more air than its previous model, including going up to an air speed of 120 miles per hour. It'll last up to 18 minutes on a fully charged battery, but it doesn't come with one on its own so you'll want to pick that up in this sale, too.
We may earn a commission for purchases using our links. Learn more.