Cleaning out your dryer vent every time you do a load of laundry is essential, as clogged dryer vents are actually the #1 leading cause of house fires. Oftentimes, dust can get trapped inside the machine and eventually can cause your clothes to not dry properly – or at all. There are businesses out there such as LintSmith which will come and clean your dryer for you, and that may be necessary depending on how clogged your vent has become, though if you're on top of cleaning out the filter each time you dry clothes, you shouldn't need to hire anyone else.
With this Dryer Vent Cleaner Vacuum Attachment Hose by PetOde, you can ensure your dryer vent is free of lint, dust, and pet hair without calling in a professional. Though this hose is normally priced at $20, you can pick one up on sale today for just $13.05 via Amazon when you use promo code 5564BFMU during checkout. That saves you over $15 off its current price there.
35% Off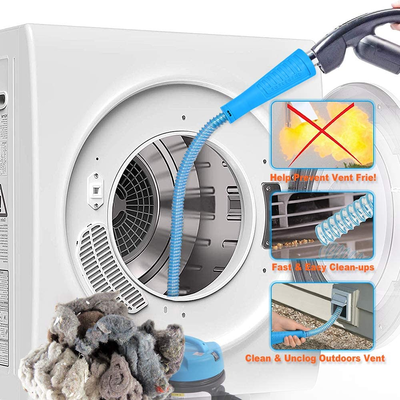 Dryer Vent Cleaner Vacuum Attachment Hose
Attach this hose to your vacuum to clean your dryer vent better than ever. It can be used outdoors and with its length of nearly 3 feet, you're able to reach further with your vacuum to clean difficult places.
$13.05 $19.99 $7 off
This tool attaches to your vacuum hose to add nearly 3 feet of length that can be slid inside your dryer vent to vacuum out all the dust and lint inside. It can be used outdoors as well to clean your dryer vent outlet which expels air outside the home. There are three suction control settings so you can switch between light cleanups and heavy-duty power cleanings as necessary. Best of all, this hose is designed to fit almost all vacuum cleaner hoses, as long as their diameter is between 1.18 and 2.44 inches wide.
Amazon offers free shipping on orders totaling $25 or more, or with an Amazon Prime membership. If you've never been a member before, you can start a free 30-day trial to score free shipping, along with all of Prime's perks such as the Prime Video streaming service, exclusive members-only discounts, and more.
We may earn a commission for purchases using our links. Learn more.