The Wavlink USB-C Power Delivery docking station has dropped to $159.99 at Newegg. This docking station goes for around $190 at other retailers, and today's sale is a temporary one as it's part of Newegg's Shell Shocker daily deals. The price is one of the best we've ever seen, and the product is coming directly from the manufacturer.
So many ports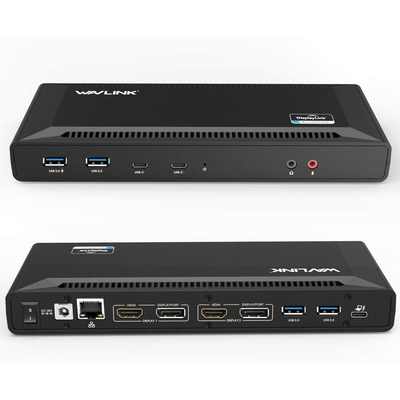 Wavlink USB-C Power Delivery docking station
With one simple USB-C connection, you get access to 60W PD charging to power your laptop while you're connected, 4 USB 3.0 ports, 2 USB-C 3.1 ports, Gigabit Ethernet, and DisplayPort and HDMI ports that support up to 5K resolution displays.
$159.99 $190.00 $30 off
The Wavlink docking station is a fantastic way to add some new functionality to your laptop or other device with USB-C. The idea here is that most modern laptops are designed to be as thin and lightweight as possible, so they don't come with a lot of extra ports. If you're dealing with that situation and your laptop basically just has one USB-C port for all your needs, then you need a station like this.
Just connect that USB-C port to this docking station and unleash the beast! Even if you don't have a USB-C port on your laptop, you can still use this docking station. It just won't be able to take advantage of some of the features like Power Delivery. The station has 60W Power Delivery, so it can charge your laptop while you use it. That's helpful if the USB-C port is your only way to charge your laptop. It also has four USB-A 3.0 ports in addition to two more USB-C 3.1 ports. Add a bunch of accessories this way.
There are two DisplayPorts and two HDMI ports accessible to you as well. These are capable of supporting resolutions up to 5120 x 2880 at 60Hz, so you can connect your laptop to larger, higher resolution displays. Forget that measly 13-inch screen. If you aren't using the dual DisplayPort option, you can still get 4K dual video with the HDMI ports.
The other ports include a built-in Gigabit Ethernet port and jacks for both audio and a mic. This station works with both Windows and Mac.
We may earn a commission for purchases using our links. Learn more.