Whether you're a content creator or just need to take photos in a dark area, grab the Aptoyu 8-inch LED selfie ring light with tripod on sale for $14.70 at Amazon. Get it down to that price while using code 58NFMY6J during checkout. Without the code, the ring light costs $35 and it was going for as much as $55 in June. We have seen the ring light go as low as $25 without a code or coupon, but you'd need something like today's deal to get it as low as today's price.
Selfie time!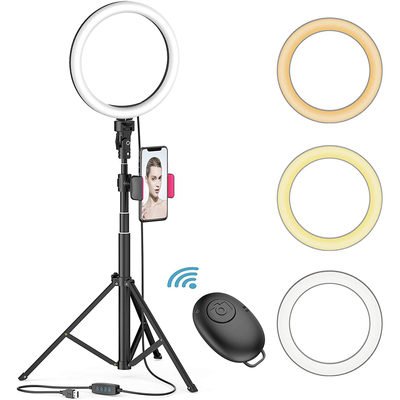 Aptoyu 8-inch LED selfie ring light with tripod
This is a dimmable ring light with 80 LED lamps, and three color modes: white, warm yellow, and warm white. There are 10 adjustable brightness levels to choose from. Can hold smartphones. Adjustable tripod extends up to 51 inches. USB powered.
$14.70 $35.00 $20 off
This ring light has 80 LED lamp beads that will last you a long time without ever needing to be changed out. They have three lighting modes including white, warm yellow, and warm white. Plus they are dimmable and you can choose between 10 adjustable brightness levels for each mode. There are easily accessible controls on the power cord, too, that let you switch to a better mode or level easily.
The ring light can hold a camera in the middle of it. It's actually compatible with both iPhone and Android smartphones. It will hold any phone with a width between 2.3 and 3.6 inches, which is pretty much all the normal smartphones. There's even an extra rubber blanket that helps protect your phone and prevent scratches.
You'll also get an adjustable tripod stand with the LED ring light. The tripod can extend between 17.5 inches and 51 inches. Lock it in place when you find the perfect height. You can even shrink it down and stick it on a table top or use it as a selfie stick.
The device is USB powered and will work with pretty much any sort of USB port, including power banks or laptops or whatever. The wireless remote gives you control over the light as well and lets you trigger your phone's camera to take pictures.
We may earn a commission for purchases using our links. Learn more.