It's always a bright idea to keep a flashlight handy in your glove box or junk drawer, as you never know when your car might break down on the side of the road or you have a sudden power cut. Right now you can pick one up from as little as $9.99 at Amazon.
The brightness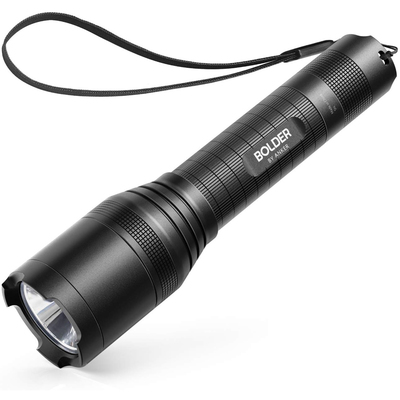 Anker Bolder LC90 rechargeable LED flashlight
The LC90 a 900 lumen Cree LED for super bright light up to 660 feet. It's fully zoomable with wide and narrow beams and five adaptable settings like SOS and Strobe. It is IP65-rated for water resistance and lasts for up to 6 hours per charge.
$21.99 $30.00 $8 off
Take the Anker Bolder LC30 flashlight, for example. It regularly sells for $12.99 but drops by $3 when you clip the on-page coupon. That's a match for its lowest direct price drop to date. It uses a 300-lumen Cree LED and has a scalloped bezel, straight body, and anti-slip design that fits in your hand or pocket. It's a great little light, whether you slip it into a drawer or keep it with you while you're camping. The Cree LED uses a highly efficient design so it has a 50,000-hour lifespan and regular high brightness. The light uses three AAA batteries, so you'll want to add a few to your order.
You can also grab the Anker Bolder LC90 rechargeable LED flashlight on sale. It falls in price by $8 at Amazon matching the lowest we've ever seen it go there. It uses a super-bright 900-lumen Cree LED. It's so bright it can cover about 660 feet or the length of two football fields. The peak of the light reaches up to 1,000 feet away. It's also fully zoomable with a wide and narrow beam. Switch between five adaptable settings including high, medium, low, strobe, and SOS.
The 18650 3350mAh rechargeable battery lasts for up to six hours in medium beam mode. It also has non-diminishing brightness so it'll just go until it can't instead of fading. Recharge the light in just six hours with the included micro USB cable.
The IP65 rating means these flashlights are water-resistant so you can use them even in heavy rain when you need to. They are also shock-resistant so even if you drop one, it's not going to get damaged.
We may earn a commission for purchases using our links. Learn more.