The AeroGarden Harvest Elite indoor hydroponic garden is down to $99.99 on Amazon. This deal is price matching Best Buy where you can also find this sale. It is a part of Best Buy's deals of the day, so there's a good choice the price disappears from both retailers at the end of the day. The other options on sale are going for around $180. This one has sold as high as $170, but it most recently was going for around $140 and has regularly sold for around $130 in the past. Today's deal matches the lowest price we've seen in more than a year.
Green Thumb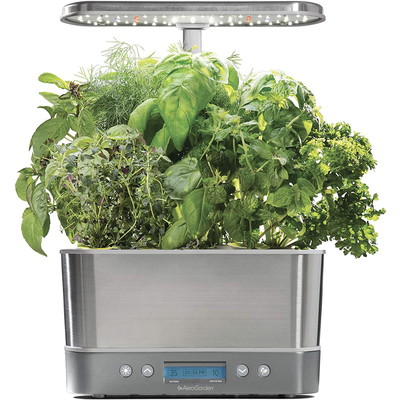 AeroGarden Harvest Elite indoor hydroponic garden
Comes with a gourmet herb seed kit to get you started with some chemical-free plant food. Grows 6 plants at a time up to 12 inches tall. Digital display gives you advanced settings including a vacation mode. LED grow lights maximize photosynthesis.
$99.99 $140.00 $40 off
Do you like the idea of growing your own fresh herbs? Do you want to dip your toes into gardening without getting soaked? Or maybe you just live in a place where a full garden isn't really feasible, like a city apartment or a townhome. The AeroGarden is a great way to grow your own fresh herbs, and it's a nice little hobby to have. It's small enough it can sit in your kitchen, and it's versatile enough you can grow all kinds of herbs and things in it.
The Harvest Elite uses hyroponics to grow the herbs. That's part of what makes it great as an indoor garden. There's no soil or anything like that, so the biggest mess you'll end up making is a little spilt water. The garden also uses LED grow lights to help simulate photosynthesis, and the lights can be tuned to your plants' specific needs to maximize that process. The water and lights result in a rapid, natural growth with an abundant harvest.
The system is also pretty easy to use. It comes with a digital display control panel that includes a lot of advanced settings. There's even a vacation mode that will help keep your hyroponics growing and thriving while you're away.
You'll get a 6-pod gourmet herb seed kit and some Miracle Gro plant food to help get you started. This is enough for one full season of growth, and the great thing about the AeroGarden is you can grow whatever you want all year round. There's no offseason when you're growing indoors.
We may earn a commission for purchases using our links. Learn more.