The black HP 24yh 24-inch 1080p IPS monitor has dropped to just $89.99 at Amazon. This display normally goes for around $130, and it hasn't dropped lower than $110 since February. You'd have to go all the way back to 2019's holiday shopping season to find it on sale for a price close to today's deal. These are big savings and put what would already be considered a budget monitor at an even more affordable price.
Nice low price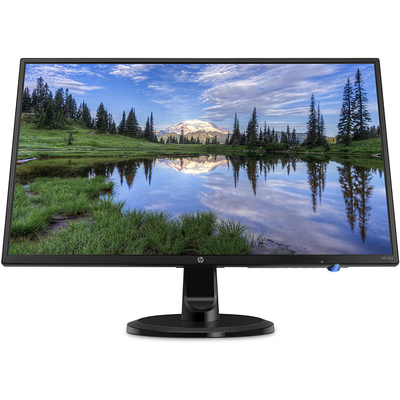 HP 24yh 24-inch 1080p IPS monitor black
The screen uses IPS for great viewing angles and accurate colors. It has a response time of 5ms and 60Hz refresh rate. Connectivity options include VGA, DVI-D, and HDMI with HDCP support. Has mercury-free LED backlighting and a low-voltage design.
$89.99 $130.00 $40 off
Not every monitor has to be some crazy 4K curved screen that serves you ice cream, although that technology should be looked into. This is a perfectly servicable screen that still looks great, and at this price it's definitely a bargain. The 24-inch monitor has a pixel resolution of 1920 x 1080. Other specifications include a refresh rate of 60 Hz and a response time of 5 ms. These are very standard specifications for a display using an IPS panel because IPS is about image quality. With an IPS panel, you know you're getting great viewing angles up to 178 degrees both horizontally and vertically. It also has far more accurate colors than other panels.
Connectivity options include VGA, DVI-D, and HDMI. You'll also have HDCP v 1.2 support for vieiwing digitally protected content like from a streaming platform. Unfortunately there is no DisplayPort on this screen, but that's okay because there's no real features to take advantage of that connection anyway.
The monitor is designed with the environmentally conscious in mind. It uses mercury-free LED backlighting, arsenic-free monitor glass, and a low-voltage halogen design.
You can adjust the tilt of the monitor on the built-in stand, but if you want some more flexibility in how to arrange it on your desktop, the screen is VESA compatible. Mount it to an arm or a wall mount.
We may earn a commission for purchases using our links. Learn more.