Cutting out trips to the grocery store is about to become a lot easier. Today's offer at Omaha Steaks is looking to stock up your kitchen freezer with meats and more while you practice the best form of social distancing: staying at home. The Omaha Steaks Stock-Up Medley consists of 51 different items to keep the family fed, from delicious top sirloins and bacon-wrapped filet mignons to juicy Omaha Steaks burgers and more. Separately, the total cost would rise just above $415, but with today's offer, you can score the entire bundle for only $175. Free shipping is included as well.
Fresh & Delivered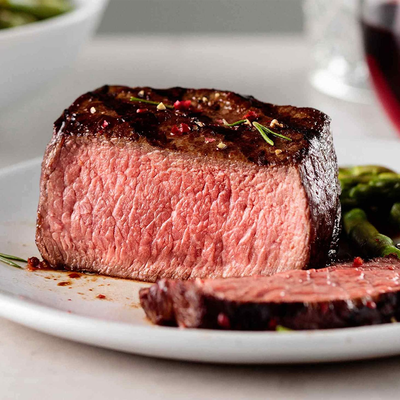 Omaha Steaks: Stock-Up Medley Offer
Today's offer at Omaha Steaks will have you stocked up on meats and more without having to leave your home. This 51-piece bundle includes top sirloins, bacon-wrapped filet mignons, chicken breasts, burgers, and much more.
$175.00 $416.83 $242 off
This Omaha Steaks medley is designed to give your family a number of high-quality meals that you can prepare for dinner all on your own without much effort. There's a large amount of meat in the bundle, though there's quite a few other sides and even dessert to pair along with it. The Stock-Up Medley includes four 5-ounce top sirloins, four 5-ounce bacon-wrapped filet mignons, eight boneless chicken breasts, eight 4-ounce Omaha Steaks burgers, and eight gourmet jumbo franks. And that's just the beginning.
The medley also comes with two 12-ounce packages of all-beef meatballs, eight packages of potatoes au gratin, a 16-ounce package of Omaha Steakhouse fries, and eight caramel apple tarlets for dessert. In total, that's enough for potentially 8 full meals for a family of four. Along with your purchase, Omaha Steaks will also donate $2 to Feeding America.
Omaha Steaks offers free standard shipping on orders totaling $159 or more, so you won't have to worry about encountering some extra fee once you reach checkout. However, if you'd like to receive your order even faster than standard shipping allows, you can upgrade to a faster shipping speed starting with Express for $19.99. Saturday Rush Delivery is an option as well.
We may earn a commission for purchases using our links. Learn more.