Washing your hands often is one of the best ways to keep yourself from catching germs from other people, especially in the year 2020. While social distancing and staying at home is important right now, there are still plenty of reasons why you might need to leave home, whether to venture to the grocery store, picking up takeout at a local restaurant, or walking the dog.
For germophobes, your mind might already be swimming with all the door handles and buttons you'll have to press before coming back home, but luckily this discounted copper carabiner tool can help. It clips to your belt loop or keyring and has a built-in 'no-touch' tool to take care of it all for you. Right now Daily Steals has them on sale for as low as $7 apiece when you select the 2-pack and enter promo code THRIFTERSAFE2 during checkout, bringing the price down to $14 total. If you only need one, use code THRIFTERSAFE to save $1 on the single carabiner and grab it for $11.
No Touching!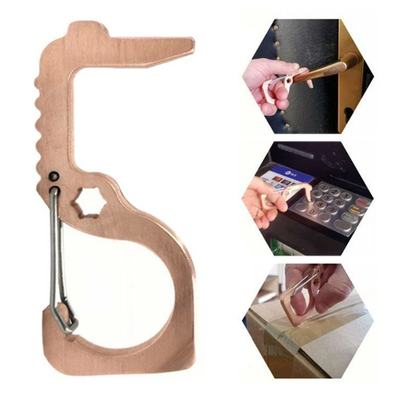 Stay Safe Copper Carabiner with No-Touch Tool
This copper carabiner lets you avoid dirty door handles and ATM buttons with its integrated 'no-touch' tool. Use code THRIFTERSAFE during checkout to score one for $11, or code THRIFTERSAFE2 to grab the 2-pack for $14.
from $7 apiece
This multi-functional carabiner tool is more useful than most as its built-in 'no-touch' tool can press ATM buttons, open boxes, and pull down door handles so you can stay germ-free. It can be used as a stylus or a hex driver as well, and you'll likely be able to find a few more uses for it if you're creative. It's made of metal and is lightweight so it won't be too awkward to bring everywhere, and it can withstand a good amount of daily wear and tear, too.
Memorial Day is coming up in just a few days, but Memorial Day weekend begins today! We've already started compiling all the best Memorial Day deals and discounts from stores like Best Buy, Target, Home Depot, Apple, and Amazon so you can find all the best sales quickly; many are already live right now.
We may earn a commission for purchases using our links. Learn more.