With the holiday season upon us, Microsoft has a big sale in store for gamers this year. Filling up your game library can be pretty expensive, but thanks to Microsoft's latest sale for the holidays, you can stock up on new titles to play during 2021 at a discount. Right now Microsoft is offering up to 55% off Xbox games and up to 75% on PC games. The sale includes deals on many of the most popular games out currently, from Assassin's Creed Valhalla to NBA 2K21 and more.
Microsoft's sale is on digital game downloads rather than on physical games that would be shipped to you. That means you'll be able to play immediately after your purchase. Some of these games also include Smart Delivery which allows you to play the game you've purchased on multiple consoles across generations as they become available.
Game On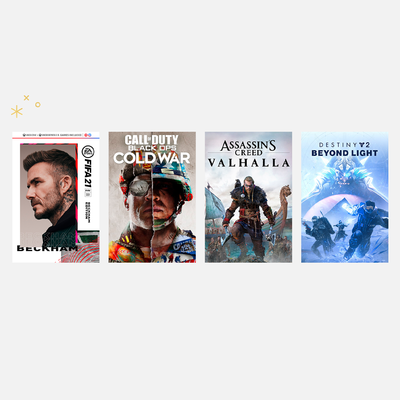 Microsoft's holiday deals on Xbox and PC games
Microsoft is offering up to 55% off some of the best Xbox games right now, including the latest Assassin's Creed game and more! You can save even more, up to 75%, on PC games for a limited time.
Prices Vary
One of the biggest games on sale right now is Assassin's Creed Valhalla. Normally priced at $59.99, today you can score the digital version of the game for only $44.99 at a discount of 30%. Thanks to Smart Delivery, this game will be playable on your console no matter whether you have an Xbox One or a new Xbox Series X|S.
Another stellar pick is NBA 2K12 for Xbox One, which is now on sale for $29.99. That saves you 50% off its regular cost and marks one of the best deals on this version of the game so far.
Meanwhile, the latest expansion to Destiny 2, Destiny 2: Beyond Light, is currently $10 off and down to just $29.99. This expansion is also available to play using an Xbox Game Pass Ultimate subscription, so you could also put your money towards trying out the service instead. Microsoft offers 3 months of Xbox Game Pass Ultimate for $1 to new members.
There are plenty of PC titles on sale to consider too, like Red Dead Online that's now on sale for just $5, saving you $15 in the process. You could also score Age of Empires III: Definitive Edition for only $14.99 or Halo: The Master Chief Collection for $23.99, and that's just the start. There are nearly 200 PC games on sale, so you should definitely take a few minutes to check out what's available.
Microsoft's holiday sale is coming to an end on January 3, so be sure to shop and get your discounted games before these prices rise back to normal.
We may earn a commission for purchases using our links. Learn more.