The Razer DeathAdder V2 Pro has been one of our favorite gaming mice since it was released late last year. Today the wirleess mouse is on sale for $89.99 at Amazon. The V2 Pro normally sells for $130, and this is the first time we've ever seen it go this low. It's a unique deal that probably won't last long, but you can find it at some other retailers like Best Buy. At this price, it's only about $20 more than the wired version but includes a lot more advanced tech.
Great price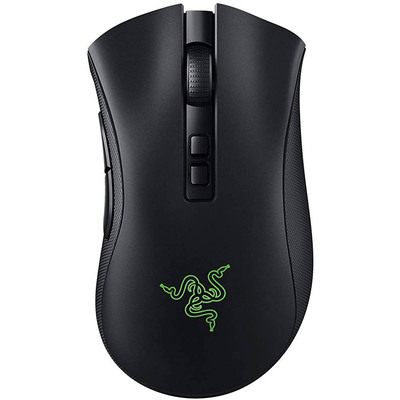 Razer DeathAdder V2 Pro wireless gaming mouse
The mouse uses a Focus+ 20K DPI optical sensor that can auto-calibrate across your mouse pad and reduce cursor drift. Faster than other mice thanks to Razer HyperSpeed's low-latency tech. Has customizable RGB lighting and a 70-hour battery life.
$89.99 $130.00 $40 off
We called the V2 Pro a "perfect wireless gaming mouse" and gave it 4.5 stars out of 5 with a Recommended badge. Richard Devine said, "It's lightweight and extremely comfortable to use, the built-in storage is a bonus particularly for anyone who uses multiple PCs, the performance from the sensor is blisteringly fast and accurate and you could never tell this was a wireless mouse without actually seeing there's no cable coming out of it."
The reason you won't be able to tell it's a wireless mouse is because of Razer's innovative HyperSpeed technology. This tech combines extreme low latency with interference reduction for a wireless experience unlike any other. This is different from a regular wireless connection, and it's not Bluetooth either. The mouse does have Bluetooth. You can connect that way if you want to. The only reason you would, though, is to preserve the battery life. The mouse's battery can last up to 70 hours using HyperSpeed, but it can last up to 120 hours on Bluetooth. Either way is pretty fantastic. You shouldn't ever really run out of battery while you're gaming or using the mouse on the regular.
You also get Razer's Focus+ 20K DPI optical sensor. This is one of Razer's most advanced sensors. It auto-calibrates while you move the mouse around to reduce cursor drift and give you the best precision possible. This is also a super lightweight mouse designed for gaming and FPS-level responses.
We may earn a commission for purchases using our links. Learn more.