The Paxcess automatic cordless rechargeable robotic pool cleaner is down to $249.99 at Walmart. That's $50 off its regular price, and Amazon has the next best price at $298. This is a great deal if you're in the market for a pool cleaner.
Vroom vroom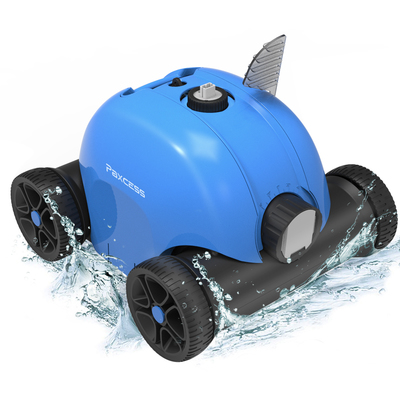 Paxcess automatic cordless rechargeable robotic pool cleaner
Works quickly without supervision. Has a rechargeable 5000mAh power pack that will last at least 60 minutes, and cordless design means no extra hurdles like a tangled cord. Has two adjustable nozzles for changing the cleaner's moving route.
$249.99 $300.00 $50 off
We've covered the best automatic pool cleaners, and while the model above isn't on the list, there is a Paxcess on there. In the world of pool cleaners, it's a respected brand.
This Paxcess pool cleaner works independently. All you have to do is set it and let it go. It will clean the pool quickly, quietly, and with little input from you. You can adjust how it cleans, though. There are two adjustable nozzles that let you change and control the cleaner's moving route. Might be important if you find the shape of your pool works better with one route versus another.
It doesn't even have a cord that might get in the way. Just recharge the 5000mAh power pack when it runs low, but it should last up to 60 minutes. That's plenty of time for most pools. If it's not, you can just recharge and go again. A lot of pool cleaners have to keep a cord and that can result in the cleaners getting tangled up in their own cords or something like that. Just another obstacle you get to avoid with this one. The battery is IPX8 rated. So, yes, it is water resistant. Which, you know, is good... because it'll be in a pool.
This is a lightweight and fast moving pool cleaner. It only weighs 12.1 pounds and moves at about 16 meters per minute. It can cover a lot of ground in the limited time it has on its battery, and it's easy to put away for storage or transport thanks to its design. The pump on this cleaner can also remove dirt, debris, bugs, twigs, and more. ThaIt won't have a problem even with the dirtier pools. Plus, with no flapper or hammer you won't get a lot of crazy noise either.
We may earn a commission for purchases using our links. Learn more.