The well-reviewed Mr. Coffee Easy Measure Coffee Maker is on sale for only $24.99 at Best Buy for just one day only. At 50% off its regular cost, you'll be scoring one of the best deals to reach this 12-cup coffee maker.
Morning Essentials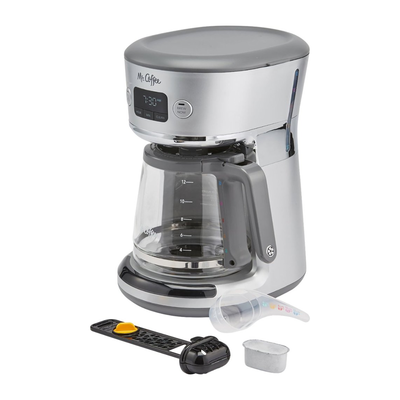 Mr. Coffee Easy Measure 12-Cup Programmable Coffee Maker
Best Buy is saving you $25 off the full cost of this Mr. Coffee 12-cup Easy Measure Coffee Maker for just one day only, featuring Brew Now / Brew Later settings, a 2-step advanced water filtration system, and more to make every brew easy.
$24.99 $49.99 $25 off
Mr. Coffee's 12-cup Easy Measure programmable coffee maker lets you make coffee for the whole family all at once. Its 2-step advanced water filtration system uses activated carbon and ion exchange resin to reduce chlorine and calcium in the water that you use, while its easy color-coded measuring system on the scoop, carafe, and water reservoir make it easy to add the exact amount of coffee grounds and water that you need. The coffee maker automatically presoaks the coffe grounds for 30 seconds before brewing to release carbon dioxide and get the full flavor of the grounds you're using.
With features like Brew Now / Brew Later settings, you can choose when your coffee gets made, while the Grab-A-Cup Auto Pause lets you pause the brew cycle to pour a cup of coffee whenever you'd like. There's also an Auto Shut-off feature, an automatic clean cycle, and an LED display, as well as a water-level window so you can see the current level at any moment and a 4-hour freshness indicator so you don't accidentally drink stale coffee.
Best Buy offers free shipping on orders totaling $35 or more, so you might want to add something else worth $10 or more to your cart before checking out. Otherwise, you'll be charged a $5.99 shipping fee to have this item delivered. At this time, Best Buy isn't allowing customers to shop inside of its store, though Curbside Pickup is another option if you're looking to skip the shipping charge. Be sure to shop soon, as this sale is only set to last through the end of the night.
We may earn a commission for purchases using our links. Learn more.