With everyone social distancing and staying at home more often than not lately, you're probably cooking a few more meals at home than usual. If you're craving the fast food you're used to, this discounted Emerald Digital Air Fryer is the perfect tool to buy for your kitchen. Today only it's on sale at Best Buy for $59.99, saving you 50% off its usual cost of $120.
Hot Price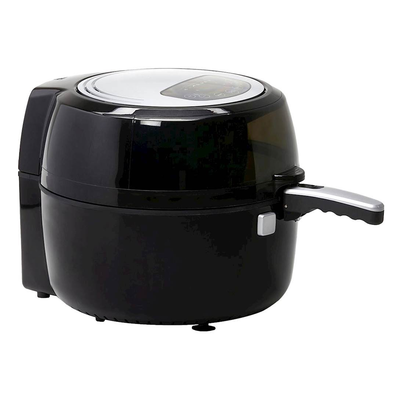 Emerald 6.5L Digital Air Fryer
Emerald's Digital Air Fryer has an extra-large 6.5L capacity to serve the entire family and includes features like a built-in 60-minute timer, adjustable temperature control, a transparent window, and a non-stick coating to make it easier to clean.
$59.99 $119.99 $60 off
This air fryer by Emerald features an extra-large 6.5-liter capacity so you can toss enough food in at once to feed the entire family. Simply throw your food in the basket, set the 60-minute timer to the appropriate time, then sit back and wait. Air fryers take less time to make popular frozen foods like chicken nuggets, french fries, and pizza rolls, so using one means you'll have dinner on the table even quicker than if you were to run over to a nearby fast food restaurant's drive-thru for a meal.
A digital display was built into this air fryer so you can select from its various preset modes or set your timer and temperature manually. There's also a transparent window so you can see how your food's cooking without opening it up and letting all the heat out. The built-in 60-minute timer automatically turns the fryer off once it reachs zero, and there's even an auto-stirring paddle which stirs your food for you to keep everything evenly cooked. That's a nice feature that many air fryers don't include.
Best Buy offers free shipping on orders over $35 or more, meaning you won't have to be worried about any additional fee being tacked on once you reach checkout. Free curbside pickup is also an option, but with social distancing measures in effect currently, it'd be a better idea to stick with delivery at this time.
We may earn a commission for purchases using our links. Learn more.