The TaoTronics air vent phone holder and 5W wireless charger is down to $8.99 with code AIUAFNCA at Amazon. That price brings the mount down from $14.99, which is the price it has been going pretty consistently for the last 6 months. Today's drop is one of the lowest prices we've ever seen for it, so it's a great deal for you.
Coupon deal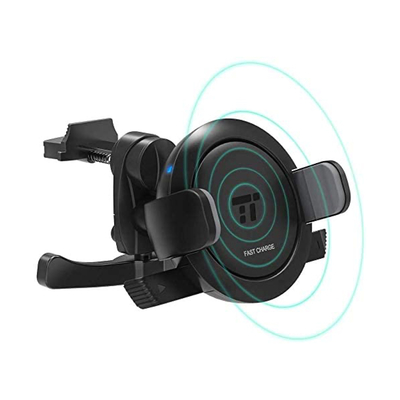 TaoTronics Wireless Charging Car Vent Phone Holder
Mount your phone in the car so you aren't holding it yourself and get 5W wireless charging to keep the battery topped off while you drive. It has a quick mount that's easy to snap shut or release. Works with screens 2.3 - 3.5 inches wide.
$8.99 $14.99 $6 off
The mount serves two functions at once. First, it gives your phone a secure place to rest while you drive. Keep your hands off your phone and keep your phone from bouncing around in your cup holder or wherever you put it normally. The mount will hold it for you and display everything you need to see, like navigational directions. Second, it has a wireless charger built-in. Once mounted, the phone will start charging and all you have to do is drive. Your battery will stay topped off and you can keep your eyes on the road where they belong.
The mount is simple to use. It's adjustable and works with any smartphone with a screen size between 2.3 and 3.5 inches wide. All you do is press your phone into the cradle and the arms will snap shut around it, gripping it into place. Press the simple release bars to get it out again.
The wireless charger provides 5W of output, which is compatible with pretty much all wireless charging smartphones, even if it's not the fastest possible option. The charging will work with cases, too, as long as they aren't more than 0.2 inches thick.
The mount uses rubber arms to grip onto the vent. They won't detach or fall even while you're driving over bumpy terrain. You can also rotate it from portrait to landscape, which allows you to find the perfect viewing angle.
Users give the mount 4 stars out of 5 based on 88 reviews.
We may earn a commission for purchases using our links. Learn more.