Grab the Sennheiser HD 660 S open-back dynamic headphones on sale for $399.95 at B&H. That's $100 off the regular price for these headphones, and you can also find this deal on the Sennheiser website. You'll get free shipping, too, although it'll probably be slow shipping. The same headphones are still going for $500 at most retailers including places like Adorama.
Quality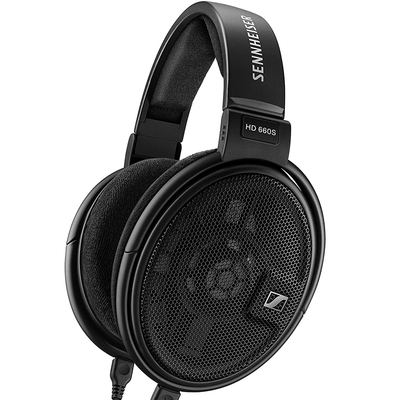 Sennheiser HD 660 S open-back dynamic headphones
These dynamic wired headphones have very low harmonic distortion and are built for audiophiles. Uses a transducer design that provides natural audio, crisp bass, and a transparent mid-frequency. Covered by Sennheiser 2-year warranty.
$399.95 $500.00 $100 off
These headphones are not built for mobility or for wandering around in the rain. Use these cans when you plan on leaning back in your easy chair and enjoying your favorite tunes. Or when you want to get the best possible sound while playing a game at your computer. Or when you're watching a stellar action movie and want the best sound while private listening.
These are audiophile headphones with improved transducers and low harmonic distortion. The transducers are hand selected for preicision and exceptional accuracy. You get stereo spatial characteristics unmatched by other headphones. They have a 150 Ohm impedance so you can connect directly to your HiRes audio devices. Get high-impulse fidelity with the aluminum voice coils. The headphones have a frequency response of 10 Hz to 41 kHz.
The wired cable is reinforced and detachable and employs high-conductivity copper for signal integrity and lowhandling noise. You'll actually get two connection cables and a 3.5mm adapter with these headphones, too, so you can plug in to multiple devices.
We may earn a commission for purchases using our links. Learn more.