No commitments... no strings attached... it's the perfect Valentine's date but unfortunately, it's not with a person. Sling's "Sling Fling" event is bringing you completely free live TV streaming of popular channels like HGTV, Showtime, TNT, Cartoon Network, and you don't even need to enter your billing information to watch!
Between the hours of 5PM ET and midnight now through February 14, over 100 live and on-demand channels will be completely free to watch; simply provide your email address, zip code, and create a password to start streaming for free at Sling. If you can't imagine ending your relationship with Sling after a fleeting one-week stand, there's even a way you can score your first month of membership for only $10 right now and see where things go from there.
Stream + Save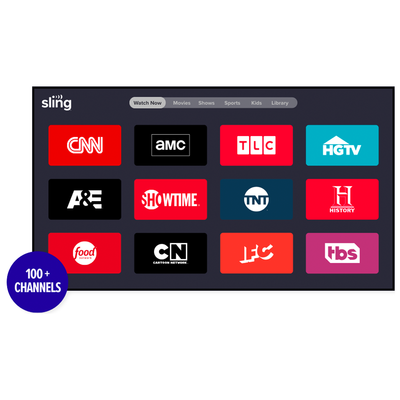 Sling TV streaming service
Sling is opening its virtual doors between 5pm ET and midnight each night through Valentine's Day so everyone can try out the service with no strings attached — you don't even need to enter billing details! You can also save $25 on your first month.
Limited Time Only
Sling normally costs $35 per month, making it one of the most affordable live TV streaming services out there, though thanks to a new offer that's available for a limited time, you can score your first month of membership at a $25 discount! After the first month has passed, your subscription will renew at the regular cost unless you decide to end your membership. There are never any fees or penalties for cancelling, and you can do so at any time. Another offer can score you a free AirTV Mini streaming device when you subscribe to Sling and pay for one month of service at its regular cost.
Once you've made an account on Sling's website, you'll be able to use it to watch Sling on a myriad of devices, from Android phones and tablets to iOS devices, Roku and Fire TV streaming media players, Samsung and LG smart TVs, Xbox consoles, Apple TV, Tivo Stream 4K, and more. You'll also be able to sign in on your computer to watch wherever.
Sling incorporates a variety of on-demand shows and movies with live TV channels. There are two main plans, Sling Orange and Sling Blue, which vary a bit in which channels they include. Meanwhile, a third plan called Sling Orange + Blue combines both base plans so you don't miss out on anything. There are also a selection of add-on packages you can choose to bring even more channels into your subscription for an additional fee per month.
We may earn a commission for purchases using our links. Learn more.