The Holy Stone HS100 GPS FPV drone with 1080p camera is down to $149.99 at Newegg. Save while you can because this deal is part of Newegg's daily Shell Shocker sales, which means the low price expires at the end of the day. Other retailers like Walmart sell this drone for around $190 or more, and that one doesn't even include the extra battery the Newegg deal has.
Fly high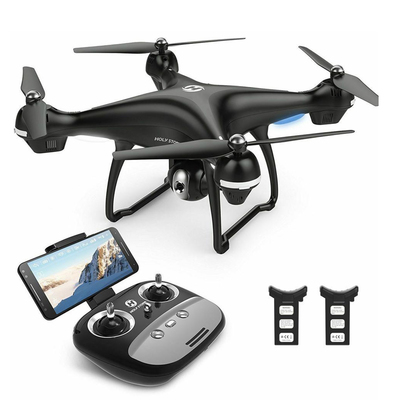 Holy Stone HS100 GPS FPV drone with 1080p camera
Includes GPS with Return to Home and Follow Me functionality, first person viewing, and a built-in HD camera that records in 1080p. Get up to 30 minutes of flight with the two 2500mAh batteries. Has simple controls and a 500m range controller.
$149.99 $190.00 $40 off
The HS100 quadcopter is built with a large body and rigid construction so it's resistant to wind and can keep itself stable even while hovering. It has a Headless Mode that means you don't have to focus on the drone's orientation while flying it, it will adjust to you. That's super helpful for beginners, and so is the one-key takeoff and landing. You'll be able to operate this drone simply whether you're a beginner or not.
The built-in camera has a 120-degree field of view with 1080p recording resolution and a 90-degree adjustable angle. It also has built-in Wi-Fi and a First Person View mode so you can look through the drone's eyes. Use the remote control for real-time viewing. It's also great at taking selfies because you can position it perfectly. Catch every moment from a birds-eye view.
The GPS feature is exceptional in making sure you get everything right while flying. It gives you accurate positioning for your drone and has a built-in Return to Home function that will automatically bring the drone back to you when the battery gets low or it flies too far out of range. The range is 500M, though, so you have plenty of space to clear before that happens.
This bundle does include an extra battery, so you'll get two 2500mAh batteries with this deal. Each one is good for about 15 minutes of flight time.
We may earn a commission for purchases using our links. Learn more.