The free trial at Sling has returned to give new members a chance to try out this affordable live TV streaming service. After a short period of new offers and deals, Sling is bringing back its free 3-day trial to give those who have yet to sign up the chance to give the service a test drive before paying for a monthly subscription. Sign up today to start your free trial now.
Sling has plans starting at just $35 per month with add-on packages that let you stream additional channels at a higher monthly rate; with the latest free trial, you can stream not just the base plan you select but also any add-on packages for three whole days before you'll be charged for a month's subscription. That's just enough time to see whether Sling might be worth staying subscribed to, or enough time to decide to end your subscription. Sling has no hidden fees, no contract, and allows you to end your membership at any time online.
Stream + Save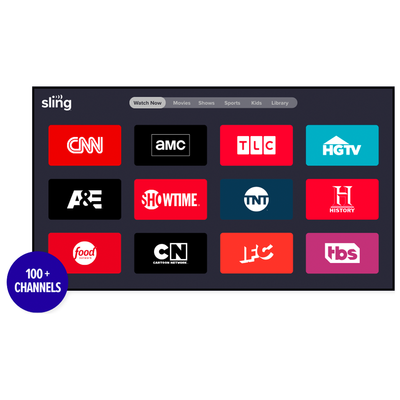 Sling TV Free Trial
Start your free trial today at Sling to stream live TV as well as on-demand shows and movies. From news and sports to popular entertainment and kids' channels, Sling brings the best channels together starting at just $35 per month.
Sign Up Now
Though most of the add-on packages are eligible for the free trial period, there are a few add-ons which are not including NBA League Pass and NBA Team Pass. Signing up for these non-eligible add-ons would charge you instantly rather than after the 3-day trial period.
If you're not willing to enter your billing information to start the free 3-day trial, another option is to check out the 'Watch Free' section at Sling. There's a selection of content that's completely free to watch even without being a Sling subscriber, including on-demand shows and films as well as a few live TV channels. This is the perfect way to get a feel for how Sling works, though it doesn't include access to the full Sling experience like the free 3-day trial does.
Need help picking your plan? Sling has two base plans which vary slightly in the channels they provide: Sling Blue and Sling Orange. A third plan, Sling Orange + Blue, combines all the channels from the base plans so you don't have to choose between them. Sling Orange is missing channels like SYFY, FX, and TLC while Sling Blue doesn't offer channels like ESPN or Disney Channel. With Sling Orange + Blue you don't have to worry about missing out on anything. Plus, you'll save an additional 25% by signing up for the combined plan.
There are several other deals available at Sling right now if you're willing to skip the free trial period, including $10 off your first month or a free streaming device when you pre-pay for a few months of service.
We may earn a commission for purchases using our links. Learn more.