The Victor high-rise height adjustable standing desk is down to $197.39 at Best Buy. This same standing desk has sold for around $300 at other retailers and normally goes for $308 at Best Buy. The price drop is part of Best Buy's deals of the day and features one of the best sales we've ever seen on this model.
One day deal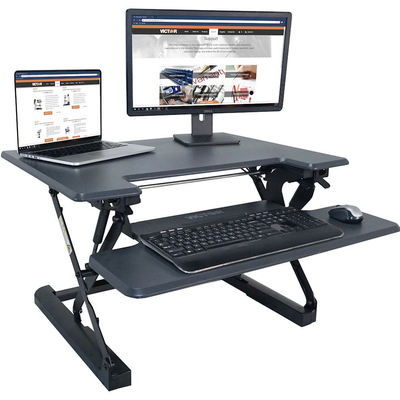 Victor high-rise height adjustable standing desk with keyboard tray
Has a spacious lower tray for a keyboard and mouse. Uses a gas-spring system so it's easy to raise and lower the device. Uses steel-frame construction for durability with a black finish that's stylish. Has scratch resistant coating, too.
$197.39 $300.00 $103 off
You know it's unhealthy to just sit around all day in front of your computer, but when work and play are both wrapped up in the system it's hard not to do that. That's why you need a standing desk converter like this! It will help you get off your bum a bit more and stretch your legs. It will be healthier for you in the long run, and this system is designed to be easy to use so you can do it as much or as little as you want. The fact that it can go up and down means you aren't stuck standing when your legs get tired.
The Victor standing desk converter is built with a steel frame and features a black finish that's sleek and stylish. The coating on the finish is scratch resistant, too, so you can place your gear on top without worrying about it getting damaged or damaging your new converter.
The bottom tray can be pulled out or stored away, and it's large enough to hold your keyboard and mouse. You'll even find some keyboard slots built in that are great for holding mobile devices and other tools you might use while you work (pens and such).
The standing desk converter is backed up by a three-year warranty.
We may earn a commission for purchases using our links. Learn more.