The Canon Ivy Cliq instant camera printer is down to $49 at B&H in three different colors including Ladybug Red, Bumblebee Yellow, and Seaside Blue. The discount comes from an on-page coupon you'll want to make sure is selected before going through the checkout process. This deal is part of B&H's DealZone, and it has already sold out once today. Grab it while you can because this is basically half off its price at other retailers like Best Buy.
There is a newer version of this camera, the Ivy Cliq+, but it is even more expensive right now. The Cliq+ goes for $130 in every color at Best Buy.
Capture memories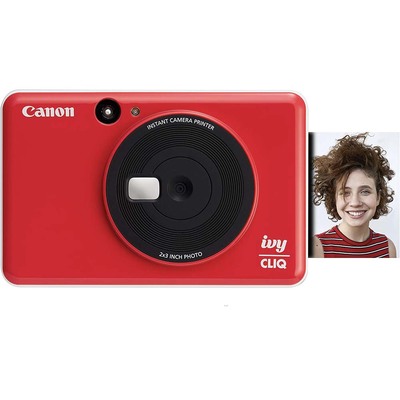 Canon Ivy Cliq instant camera printer red yellow blue
Creates 2 x 3 inch prints on Zink paper. Also works as a digital camera that can save photos to a microSD card. Has a 5MP image sensor and wide-angle lens. Also has an integrated selfie mirror for the perfect profile shot. Fits in your pocket.
$49.00 $100.00 $51 off
I like to look at cameras like this as "fun" more than anything else. You're not getting this to start a serious photography hobby. You're getting it to comemorate a moment, whether it's a wedding or a night out on the town with your friends. The camera can instantly print little 2 x 3 inch photos using Zink paper. Use that to create photos you can appreciate in the present. Make funny faces, stick the photos in an album, share them around the circle, do whatever.
The camera itself is fun, too. The design includes bright colors and a secure build. It's small enough to fit in your pocket so there's no noticeable bulk from being a hybrid system. The image quality isn't bad, either. It has a 5MP image sensor and a wide-angle lens to capture your environment. It's really an everyday shooter that can also print. In fact, it has a button that lets you print out multiple copies of an image if you want.
Use the optical viewfinder to find the perfect frame for every shot. You can also use the built-in selfie mirror when trying to capture your own image. Other features include autofocus, auto exposure, and auto white balance. The flash provides illumination when it's dark, and the battery lasts for up to 25 shots per charge. You can easily recharge it via micr-USB, too.
Want to keep the pictures for the long haul? Use a microSD card to save every image. It supports microSDXC so grab a 64GB SanDisk card for less than $13.
We may earn a commission for purchases using our links. Learn more.