Best Buy's latest sale on Nerf blasters and accessories arrives just in time to kick off the summer. Select Nerf toys are on clearance at Best Buy with prices starting as low as just $5, and you can even score free shipping on orders totaling $35 or more. You'll find large and small Nerf Blasters on sale, darts and other accessories, and more, but only while supplies last.
Up to $30 Off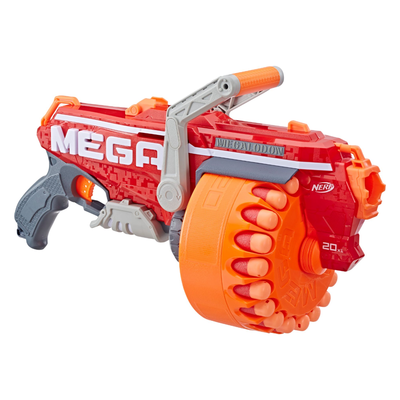 Nerf Blasters and Accessories on Clearance
Best Buy has a selection of Nerf blasters and accessories on clearance right now at up to $30 off their usual prices while supplies last. Shipping is free on orders totaling $35 or more.
Prices Vary
Those looking for the best discount in the sale have the opportunity to save $30 on the Nerf Rival Perses MXIX-5000 Toy Blaster 2-pack. Normally sold for $99.99, this set is now down to just $69.99 for a limited time and comes with two blasters and a number of rounds to keep them locked and loaded.
If you're shopping for just one Nerf blaster, the Nerf Megalodon N-Strike Mega Toy Blaster offers one of the best bangs for your buck. It's on sale for just $27.99 today, saving you $12 off its usual cost, and is capable of being loaded with up to 20 foam darts all at once. Best of all, you can fire them off one at a time or unleash all 20 darts rapidly.
The Deadpool-inspired Rival Deadpool Kronos XVIII-500 Blaster is now on sale as well, priced at $24.99 while supplies last. This model is designed in the style of Deadpool's X-Force suit and can fire rounds at a velocity of 7.5 feet per second. It even comes with a chimichanga, because why not?
Remember to add some darts to your cart before checking out as well. This 40-pack of Rounds is on sale for $13.99 while you can snag this 75-pack of N-Strike Elite AccuStrike Darts for its regular price of $24.99.
Best Buy's sale won't last long, so be sure to check out the full selection of Nerf toys while these items are still available at a discount.
We may earn a commission for purchases using our links. Learn more.