The Samsung Galaxy Watch Active 2 smart watch has dropped in price today. You can get it for $179.99 at Amazon. This is the best price we've ever seen for this watch, which normally sells for around $220 or more. It was going as high as $270 at the beginning of the year, and it has never gone below $200 directly on Amazon before. It's still going for $270 at other retailers like Best Buy and Microsoft. Only black is going this low, but you can get Silver discounted to just $199.99, which still ain't bad.
Watch this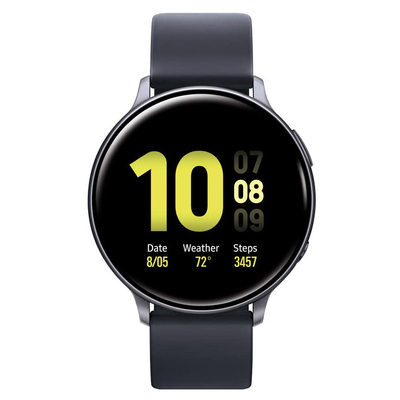 Samsung Galaxy Watch Active 2 44mm GPS Bluetooth smart watch
Works with Android and iOS. Automatically tracks popular activities like cycling or swimming. Can monitor sleep, stress, and heart rate. Uses Super AMOLED display and touch bezel for quick navigation. Also has Samsung Pay and Bixby voice control.
$179.99 $220.00 $40 off
Our review of this smartwatch back in November 2019 gave it 4.5 stars out of 5. Andrew Martonik said this watch "is incredibly useful for daily activity tracking, workout tracking, heart rate monitoring, sleep tracking... Beyond fitness, you get a full suite of smartwatch capabilities — just configure it to do as much, or as little, as you want."
You can actually use this with both Android and iOS devices because it will pair with either operating system. The advanced sensors in the watch can keep your pace and track all of your fitness goals, and it does a lot of it automatically. If you decide to go for a bike ride or a swim, the watch will pick up on what you're doing and start tracking it automatically. If it doesn't, just manually tune it to the exercise of your choice.
In addition to GPS and Bluetooth, the Active 2 also has a heart rate monitor. It can send you alerts when it detects you reaching different heart rate levels, including if it's getting too high or too low. Get insight on your sleep habits and stress levels, too. You can even use the Calm app integrated into the watch to find some relaxing audio when you're getting too stressed out.
We may earn a commission for purchases using our links. Learn more.