The Tribit XFree Go over-ear Bluetooth headphones have dropped down to $23.09 with code XFREEGOEDM on Amazon. Without the code, these headphones are going for $33. This is a new version of Tribit's headphones that was just introduced about a week ago, so consider this a sort of early adopter deal. We have seen other Tribit headphones go on sale in the past, but this is one of the best values even compared to previous deals.
Sounds like a deal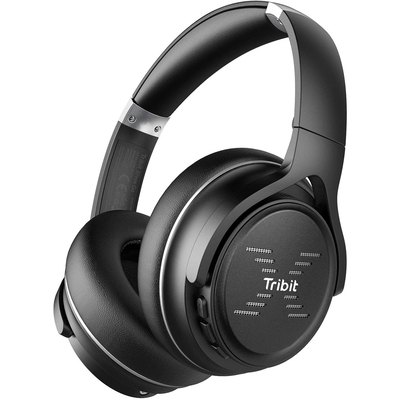 Tribit XFree Go over-ear Bluetooth headphones
Has Bluetooth 5.0 tech with a Qualcomm chipset to help save on power. Battery lasts up to 24 hours and a 10-minute charge gives you 4 hours of playtime. Connect and switch between 2 Bluetooth devices at once. Built-in mic has noise-cancelling.
$23.09 $33.00 $10 off
For just a couple dozen bucks, these headphones do a lot. Start with that battery life. Not only do these headphones last for up to 24 hours, but they only take two hours to fully charge. Can't wait that long? Plug them in for a quick charge via USB and you can get four hours of playback after just ten minutes. That's great for those times where you accidentally let the battery drain but you need the headphones right away for a commute or a trip to the gym.
The headphones get such a long lasting battery thanks to a combination of Bluetooth 5.0 technology and the Qualcomm chipset, which work together to keep power consumption very low. And this tech doesn't hurt the audio so you get a seamless audio connection. You can even use the Bluetooth to connect to two devices and switch between them. Tribit's signature sound is still present in these headphones, too, providing detailed, tonally balanced audio. The over-ear design and ear pads designed for noise isolation help block out the ambient sounds you don't want to hear so you can better focus on the music.
There is a built-in mic that uses CVC 8.0 noise-cancelling technology so your voice is crystal clear every time. Take calls even in noisy environments. You can also use the mic to talk to your Siri voice assistant.
We may earn a commission for purchases using our links. Learn more.