Grab the Netgear Nighthawk R7000P Wi-Fi router on sale for $109.99. This is the lowest price ever on this router and the best deal we've seen since it dropped to around $130 last November. The router normally goes for around $190, so you're saving quite a chunk of change today. Amazon's sale is price matching a similar deal at Walmart. Considering Amazon's is actually back-ordered by a few days, you might want to go with Walmart for this one if you can't wait. The same router is $200 at other retailers like Best Buy.
Super low price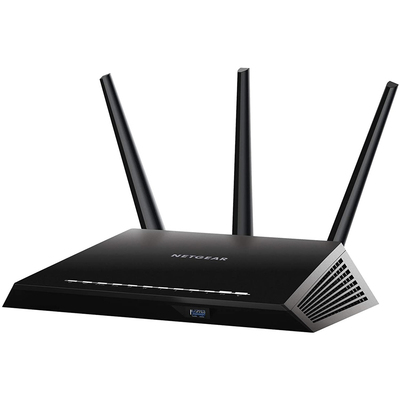 Netgear Nighthawk R7000P Wi-Fi router
This powerful router can cover up to 2,000 square feet with Wi-Fi. It has dual-band speeds of 600 Mbps and 1625 Mbps. Can provide bandwidth for up to 35 devices. Has four Gigabit Ethernet ports for hard wiring. Includes MU-MIMO and Beamforming+ tech.
$109.99 $190.00 $80 off
The Nighthawk will give you amazing performance that covers up to 2,000 square feet in Wi-Fi. It's a dual-band router with 600 Mbps on 2.4GHz and 1625 Mbps on your 5.0 GHz band. It's also capable of supporting up to 35 devices, which is important if you happen to live in a house where everything is Wi-Fi. You'll be able to add more computers, laptops, 4K TVs, smart thermostats and bulbs, and more with this router. It will provide sufficient bandwidth no matter how smart your home gets.
The router has four Gigabit Ethernet ports on the back as well. Forget wireless and go for the fastest and most stable connection possible by connecting via Ethernet to your computer, game console, or whatever other device where the best possible internet speed matters. Other connections include a USB 3.0 and USB 2.0 port.
You'll get a ton of excellent features and tech in this router, too. Beamforming+ and MU-MIMO technologies help ensure that not only can you connect all the devices you want but it won't slow down your bandwidth either. The router has a 1GHz processor and three amplified antennas to ensure maximum coverage. It also has Dynamic QoS, Smart Connect, and the ability to connect to your Amazon Alexa smart home ecosystem so you can control it with your voice.
We may earn a commission for purchases using our links. Learn more.