Upgrading to a new Mac can be expensive, especially if you want the latest and greatest model. Often your choice is between either scoping out a great MacBook deal to try to get more for your money or settling for a refurbished model and saving some cash that way.
This limited-time sale at Woot offers a different option, though, with brand new MacBook and Mac mini models on sale with some hefty price cuts. Though the sale is slated to last a few weeks, each model is limited in supply and could sell out sooner so you likely don't have long to snag one.
While supplies last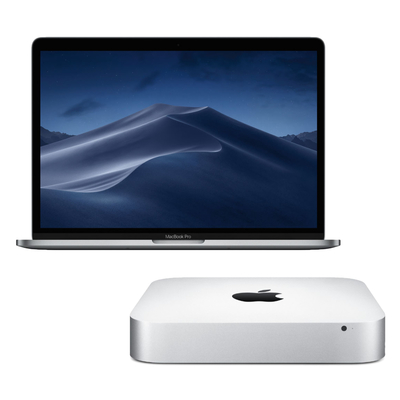 Apple MacBook Pro and Mac mini sale
Woot has a selection of brand new Mac computers on sale for a limited time, including MacBook Pro and Mac mini models. Though these aren't the latest versions, they are offered in new condition with a 1-year Apple warranty.
Prices Vary
The sale features laptops from 2017 through 2019, so they are all recent but not current-gen models, in new condition. The machines are offered brand new, retail-packaged, and with a 1-year Apple warranty, though note that the keyboard configurations are not the standard U.S. layout (some are Spanish, others are Canadian).
Prices start at $1,329.99 for the MacBook Pro models. That gets you a brand new, mid-2017 MacBook Pro with 15-inch Retina display, Touch Bar, Intel Core i7 processor, 16GB RAM, and 256GB SSD storage. The sale features 13-inch models from 2018 for not much more and the newest laptops in the sale are 15-inch models from 2019.
If you're more in the market for a Mac mini deal, the diminutive computer is available for just $589.99 in the sale. The models are the late-2014 iteration of the machine and feature 2.8GHz Intel Core i5 processors, 8GB RAM, and 1TB hard drives. If you're already set up with a display and other peripherals, the Mac mini is a really affordable entry point to macOS. Mac mini also works great as a Plex media server.
These are only a few examples of the models on sale today, so be sure to check out the full selection before making your decision. Woot is also running a refurbished Mac sale right now with a selection of Mac mini and iMac models starting at just $279.99.
Woot normally charges $6 per order for shipping, though you can score free shipping there with Amazon Prime. If you've never been a Prime member before, you can start a free 30-day trial to snag free shipping at Woot and Amazon, along with access to all the regular perks that come with a Prime membership, such as the Prime Video streaming service, exclusive members-only discounts, free Kindle eBooks every month, and more.
We may earn a commission for purchases using our links. Learn more.